This video provides a brief overview of cervical disc surgery by Dr. John K. Starr of WOSM. He discusses reasons for spinal treatment and surgery, the anterior approach to cervical disc surgery, cervical spinal fusion, and typical outcomes of the procedure.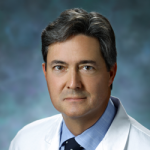 Dr. John K. Starr, MD, is an orthopaedic surgeon who specializes in complex spinal surgery. Dr. Starr's sub-specializations include complex deformity, revision reconstruction, spinal trauma and tumors. Dr. Starr completed his orthopaedic residency training at the University of Pittsburgh and two spinal surgical fellowships at the University of Miami. He came to George Washington University in 1992 and served as the orthopaedic director of spinal surgery. He has practiced in Washington, D.C., for over 20 years. Dr. Starr is currently on the medical board for the FBI, Secret Service, and State Department. 
Want to know more?
For more information about spinal surgery, email us or request an appointment.
Be sure to follow us on Facebook and Twitter as well!