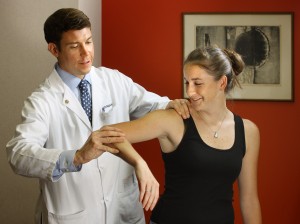 Shoulder problems affect people of all ages, with symptoms caused by trauma or through repetitive overuse activity.
Recreational activities involving repetitive overhead motions, such as tennis, baseball, racquet sports and swimming can make you more prone to shoulder injuries.  Sometimes, shoulder problems are due to a particular event, such as shoulder dislocations or separations. As patients age into their 50's and 60's, it is common to develop symptoms related to the rotator cuff tendons or arthritic changes of the ball and socket joint.
Our fellowship-trained practitioners provide comprehensive, detailed evaluations and treatment strategies, including the most advanced and recent developments in shoulder care. As board-certified, fellowship-trained specialists who actively participate in national and international academic sports medicine and shoulder societies, we offer the highest levels of evidence-based medicine and state-of-the-art techniques to optimize your care.
Our shoulder specialists are faculty members at major medical institutions and are actively involved in teaching and training both future orthopaedic surgeons and current practicing physicians.
Shoulder Evaluation
Our shoulder experts provide comprehensive management of all shoulder conditions from instability to rotator cuff disease to joint replacement.  Our specialists focus on the causes of your injury, appropriate treatment techniques and getting you back to your activities.
Appropriate evaluation typically includes:
Thorough orthopaedic history
Focused physical examination
X-rays (when indicated)
Appropriate advanced imaging studies, (e.g. MRI or CT scan) as necessary
Treatment
The causes of your shoulder injury or condition, as well as your level of activity, will lead your doctor to develop a personalized treatment plan with you.  We direct treatment alternatives based on your problem, and range from "conservative" management options such as activity modification, physical therapy and injections, to surgical intervention using advanced arthroscopic techniques.
Surgery
If surgery is necessary, you should know you are in excellent hands, as our specialists have a combined experience of more than 30 years performing shoulder surgery. If your doctor does recommend surgery, our helpful staff will explain everything you need to know to prepare for surgery.  After surgery, your doctor will check on you and then expect to see you in the office a week later to make sure you are healing well.
 Common Shoulder Conditions
Some common shoulder conditions we treat include:
Acromioclavicular separation
Biceps Tendon Disruption
Clavicle Fracture
Distal Clavicular Osteolysis (Weightlifter's Shoulder)
Biceps Tendon Subluxation
Os Acromiale
Quadrilateral Space Syndrome
Sternoclavicular Joint Injury
Scapular Winging
Anterior Shoulder Instability
Multidirectional Shoulder Instability
Posterior Shoulder Instability
Rotator Cuff Tear
Impingement Syndrome
Secondary Impingement Syndrome
SLAP Lesions
Snapping Scapula
Subscapularis Disruption
Suprascapular Nerve Entrapment
WOSM Shoulder Experts
Research