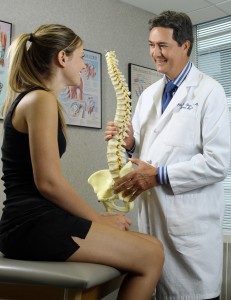 If you have a neck or back condition, you probably have high levels of pain and dysfunction. Common spinal ailments can make it difficult to work, sleep, or even to get out of bed. Problems of the spine can also create anxiety and even fear.
Spine Evaluation
Spinal conditions can be very complex to diagnose and to treat effectively. That is why it is so important to see an experienced spine specialist, who can evaluate your situation accurately and recommend an appropriate course of treatment. Some of our patients visit us after years of seeking medical treatment for their spinal problems. For complex spinal conditions, injuries, tumors and all types of spinal surgical problems, our spine specialist, John K. Starr, MD, has more than twenty years of experience in the exclusive practice of spinal surgery. Learn more about treatment for complex spinal conditions, including complex spine surgery.
Treatment
Many spinal conditions do not require surgery. Our physicians may recommend the following treatments:
Pain management
Physical therapy
Lifestyle modifications, including sleeping, exercise and posture
Surgery
If you and Dr. Starr decide on surgery, our office staff will help you scheduling, arranging necessary pre-operative testing, and checking insurance carrier requirements for authorization. We will provide you with a twelve-month schedule of follow-up and assist you with any employer requirements as well.
Common Spinal Conditions
Some common spinal conditions we treat include:
Cervical disc herniation
Lumbar disc herniation
Spinal stenosis
Spinal deformity
Scoliosis
Kyphosis
Facet cysts
Spinal tumors
Spine infections
Spinal fractures/injuries
WOSM Spine Experts
Research