Physician Emeritus for Dr. Haas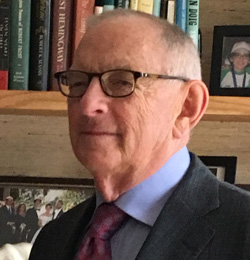 Dr. Stephen Haas and the late Dr. Carl MacCartee Jr. formed an Orthopedic Surgery practice with a special interest in Sports Medicine in 1975. Subsequently they merged with the practice of Dr. Randall Lewis and Dr. Anthony Unger to form what evolved into WOSM – Washington Orthopedics and Sports Medicine.
In 2009, Dr. Haas retired as Clinical Professor of Orthopedics at George Washington University, Clinical Instructor of Orthopedics at Georgetown University, and from active practice; during his tenure, Dr. Haas served as a Chairman of Orthopedics at Sibley Hospital. In addition, Dr. Haas filled the role of team physician for George Washington and Georgetown Universities, the Washington Wizards, the Washington Capitals, the U.S. Olympic Basketball Team, and for 16 years as an Orthopedic Consultant to the White House Medical Staff.
Since retiring from active practice, Dr. Haas has served as Medical Director of the NFL Player Medical Benefits Plan. He is currently involved in developing a nonprofit, public interest podcast program on maintaining an active lifestyle at all ages.